Shutter Shack's original success was founded on the belief that to create a successful business, customers first need to feel that you care. Since 1970, the family run business has been known for exceptional personalized care and service. Within 15 years of its beginnings, a large customer base was established and Shutter Shack's work extended to over 30,000 homes. From Penthouses in Manhattan to weekend getaways in the Hamptons, from ski homes in Vermont and Colorado, to winter homes in Florida and the Bahamas, Shutter Shack has served them all.
After 30 years, Shutter Shack relocated to new headquarters leaving its original Woodmere, NY home for Woodbury, NY and more recently to our current Westbury, NY.
With the advent of our website: ShutterShack.com a new base of loyal customers was served nationally and globally. These internet clients have included the U.S. Marines and Army, universities, such as SUNY-Maritime, Cornell and MIT, hospitals, hotels, houses of worship, correctional institutions, Las Vegas casinos, the Union League Club, New York Tennis and Racquet Club, Watermill Beach Club and Manursing Island Club. To help service this new base of internet clients the Shutter Shack can also now be followed on Facebook.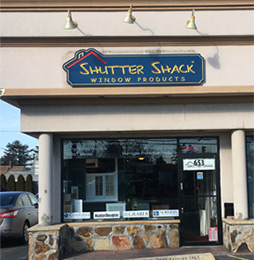 We have also supplied shutters and radiator covers for Hollywood productions including sets on Persons of Interest, The Soprano's, commercials for Coors, the Bruce Willis movie "Unbreakable", as well as the Matt Damon movie, "The Good Sheperd, God Friended Me, and Royal Pains". Our exterior shutters were also featured on the "CBS Early Show".