Specialty Interior Shutters
Shutter Shack's offers many options in Specialty Interior Shutters. Our Basic Wood Shutters are made from the finest Kiln Dried Woods. Some of these options are special mounting strips, multiple hinge finishes, sub-stile panels, as well as sliding panel units, so we price these jobs individually. If you require the finest quality shutters that may require a special installation, custom color, or a special panel configuration, our Specialty Shutters may meet your requirements.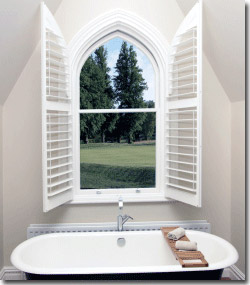 Specialty Interior Shutters:
Fabric Inserts and Raised Panels
Curved Top and Slope Top
Octagon, Hexagon and Circle
Sunbursts
French Doors
Colonial Top Rails
Sliding and Folding Tracks
Specialty Shutter Pricing
Shutter Shack Specialty Shutters are all custom made and are priced accordingly.
Call us at 1-877-913-3100 or use our online Contact Form for additional information or to place an order.