Impact Shutters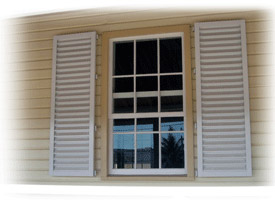 Climate Control.
Architecural Appeal.
Artistic Cover.
Storm/Hurricane Defense.
Paint Finish.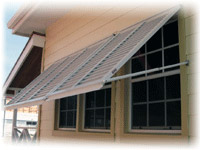 Our Vinyl and Lexan Impact Shutters come in a variety of styles. Raised Panel, Beaded Board, Louvered or a combination of styles are available.
Lexan is incorporated into the panel making it impact resistant. In addition, these Impact Shutters offers a simple and easy installation solution.
The Aluminum Impact Shutters are made completely of extruded Aluminum and designed after actual wood shapes. They have been designed using interlocking design to provide unmatched strength, beauty and durability.
The Bahama style Aluminum shutter is easily adjusted for privacy and will completely shade your window, helping to cool your home. The shutter closes easily and securely for maximum stregth and storm protection.
Our Traditional Louver Aluminum shutter is extremely veratile allowing for coutless configurations. Open they create a stately air of elegance. Closed they protect against high winds and driving rains.